Meet the team at Island House Real Estate selling luxury properties and forever homes across the Charleston area! Tricia Peterson, Founder and Broker In Charge (843) 847-1762 |

[email protected]
Before transitioning into Charleston real estate, Tricia served in the medical field as a physical therapist for more than 15 years. Although these two ventures may seem worlds apart, for her the common denominator is helping others make smart, informed decisions that will significantly impact their quality of life. With this simple mission to continue helping others and contribute to her clients and community in a meaningful way, Tricia founded Island House Real Estate in 2018. Known for her empathetic approach, creative solutions, and unmatched stiletto sprint, she is proud to earn deep, lasting relationships with her clients based on hard work, dedication, and success in helping them find a home. Among her many accolades, Tricia is year after year, a Platinum REALTORS® of Distinction being recognized among the top 2% of Charleston Real Estate Agents, and an East Cooper Top Producer composed of the top real estate agents representing the East Cooper and Daniel Island areas. In addition to serving as the broker-in-charge for Island House Real Estate, she is also a

Certified Luxury Home Marketing Specialis

t (CLHMS), member of the Million Dollar Guild, Resort and Second-Home Specialist (RSPS), and a National Association of REALTORS® certified Pricing Strategy Advisor (PSA) and Sellers Representative Specialist (SRS). Tricia graduated with her B.S. in Biology from Gannon University and Doctorate in Physical Therapy from Slippery Rock University. After moving to Charleston in 2008, she dove full speed ahead into her Real Estate career. For each and every client, Tricia hopes they will look back on Island House Real Estate for years to come with a smile knowing they put their trust in the right team and were in the best hands from listing to close. Tricia and her husband Brett, along with their three children, live on Daniel Island. Between closings, staging, photos, social media posts, newsletters, meetings, paperwork, and running comps, Tricia can be found with her husband and kids on the boat, at the beach, working on renovation projects, or in St. Maarten floating in the blue sea.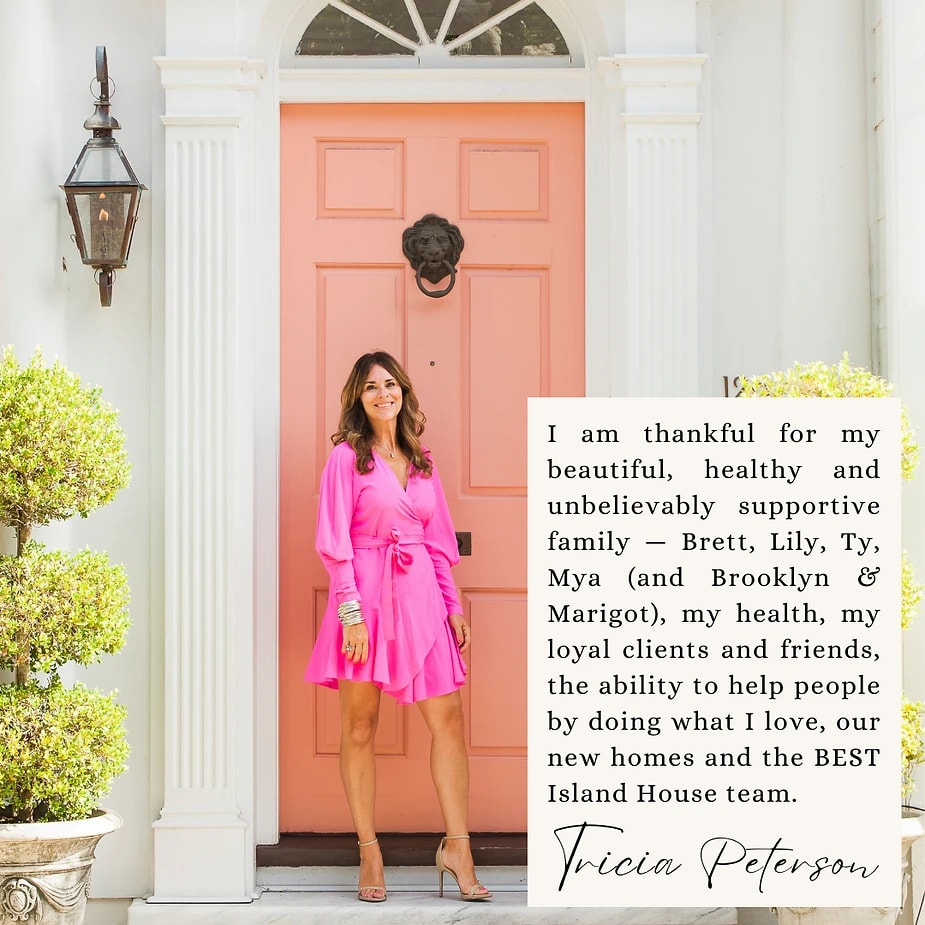 Born and raised in Phoenix, AZ with a career tour across California and professional travels taking her as far as the UK, Jill made her way south landing in Augusta, GA in 2015, where she owned and operated a boutique Pure Barre Studio with her husband. As the newest member of the Island House Real Estate team, she knows that (often) life makes it abundantly clear to us where we need to be and when. Looking back, all the best choices Jill made came from recognizing and acting on those basic instincts – including when she and her husband made the decision to establish roots and relocate to Mount Pleasant in 2019. Before becoming a Real Estate Agent, she spent most of her career working as a hospitality consultant for high-end golf and country clubs and working in the boutique fitness space – this experience equipped Jill with the valuable skills to provide excellent service before, during, and after the transaction. A quintessential extrovert, she is impressively intuitive and easily relates to her clientele across all walks, stories, and backgrounds drawn to this desirable market and the lifestyle it represents. Whether you are a first-time home buyer or seasoned real estate investor, Jill gets no greater satisfaction than rising to the challenge and guiding you to the closing table on your terms. Jill's passion for health and wellness has led her to complete 15 half-marathons and the Chicago marathon. When she is not searching the Lowcountry for prime homes, you can find Jill teaching a Pure Barre class, taking hot yoga, or hanging out with her husband David and their Morkie, Daisy.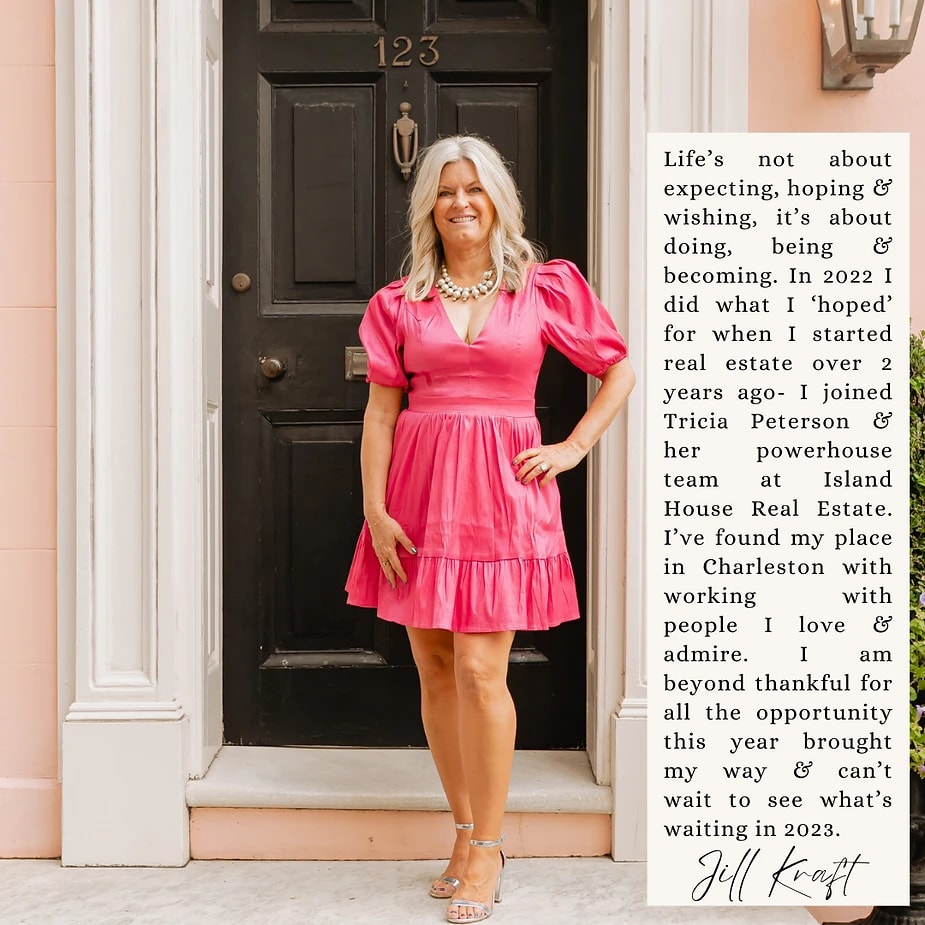 Erin has lived in Charleston for nearly 21 years. She is a native of the Washington D.C. metro area and a graduate of the College of Charleston. Erin began her residential real estate career in 2007 at Daniel Island Real Estate where she worked closely with custom home builders and residential buyers and sellers from across the country. In 2010, Erin began to sell residential real estate for Keller Williams Realty and later moved her license to The Real Estate Experts of Charleston. Erin also has experience working as a paralegal for a foreclosure defense attorney from Mt. Pleasant, SC. In 2013, Erin's husband took a job that required them to temporarily re-locate to Knoxville, TN. For almost two years, Erin worked as the Property Manager for Trotter and Company; a commercial real estate firm. In addition to overseeing the Property Management, Erin also handled much of the office administration, supervised one maintenance tech, and worked as Project Manager on up-fits and build-outs. In 2016, Erin went to work for Radekopf and Associates, a Charleston-based Residential and Commercial Real Estate Firm before joining Island House Real Estate in 2020. Her expertise in the legal and both residential and commercial real estate industry is a true asset to our team. When she is not selling real estate or leasing retail property, Erin enjoys volunteering at Habitat for Humanity and traveling with her husband, Martin, and caring for her 1-year-old daughter, Quinn. Erin has several designations which include; Certified Luxury Home Marketing Specialist (CLHMS), Certified Negotiation Expert (CNE), Short Sale Foreclosure Resource (SFR), and Certified Distressed Property Expert (CDPE). Erin focuses mostly on Residential Sales and Commercial Sales and Leasing with an emphasis on Retail and Office.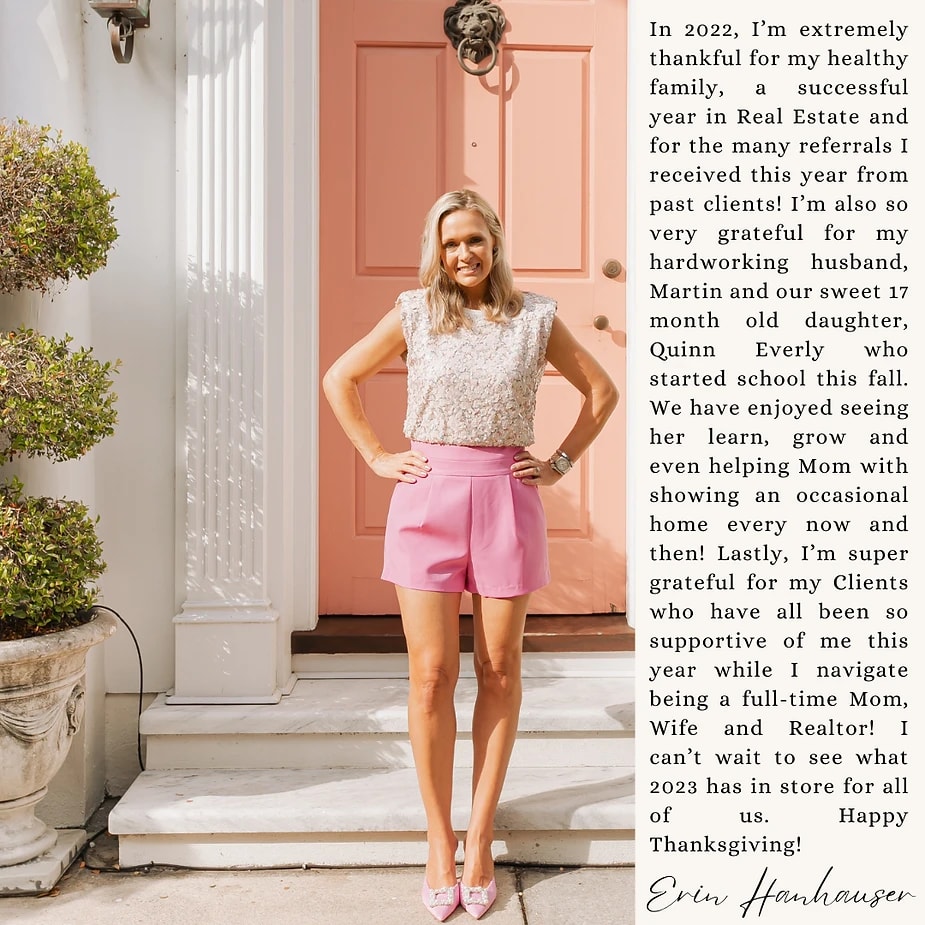 Morgan's decision to pursue a career in real estate in 2020 was driven by her passion to help people achieve their homeownership goals. Growing up in the harbor town of Cold Spring Harbor, New York, and moving to Charleston 7 years ago has given her the unique perspective and appreciation of living in a coastal community and all that it has to offer. Morgan earned her Urban Studies degree at the College of Charleston and has been living in Downtown Charleston ever since. She has become quite the foodie and loves trying new restaurants that pop up throughout the city. Some of her most recent favorites include Berkeley's, Melfis, Renzo and Frannie and the Fox. Her experience in marketing and sales has allowed her to hone in on the needs of her clients. Morgan is passionate about making the home buying process seamless and exciting for first-time home buyers as they navigate this major milestone. When she's not working she enjoys exploring new places in the city, walking the Ravenel Bridge, or heading to the beach.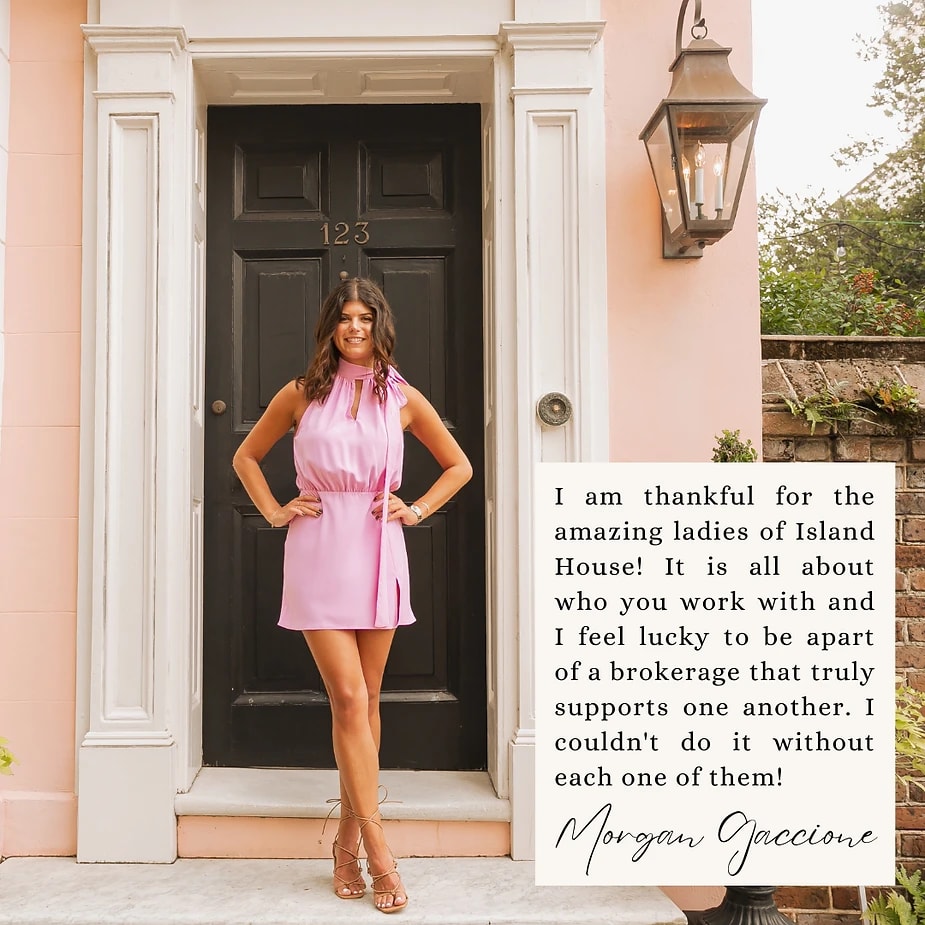 Lucia Lang moved to Charleston in 2006 and immediately fell in love with its historic charm, vibrant lifestyle, and temperate climate. After graduating from the College of Charleston in 2010, she spent several years in business and marketing before realizing her passion of real estate. Lucia guides clients throughout the buying and selling process with ease, efficiency, and understanding, along with her sunny disposition. She enjoys working with anyone from first-time buyers to investors, and says that the best part of real estate is that every client and home is unique, making each day different from the next!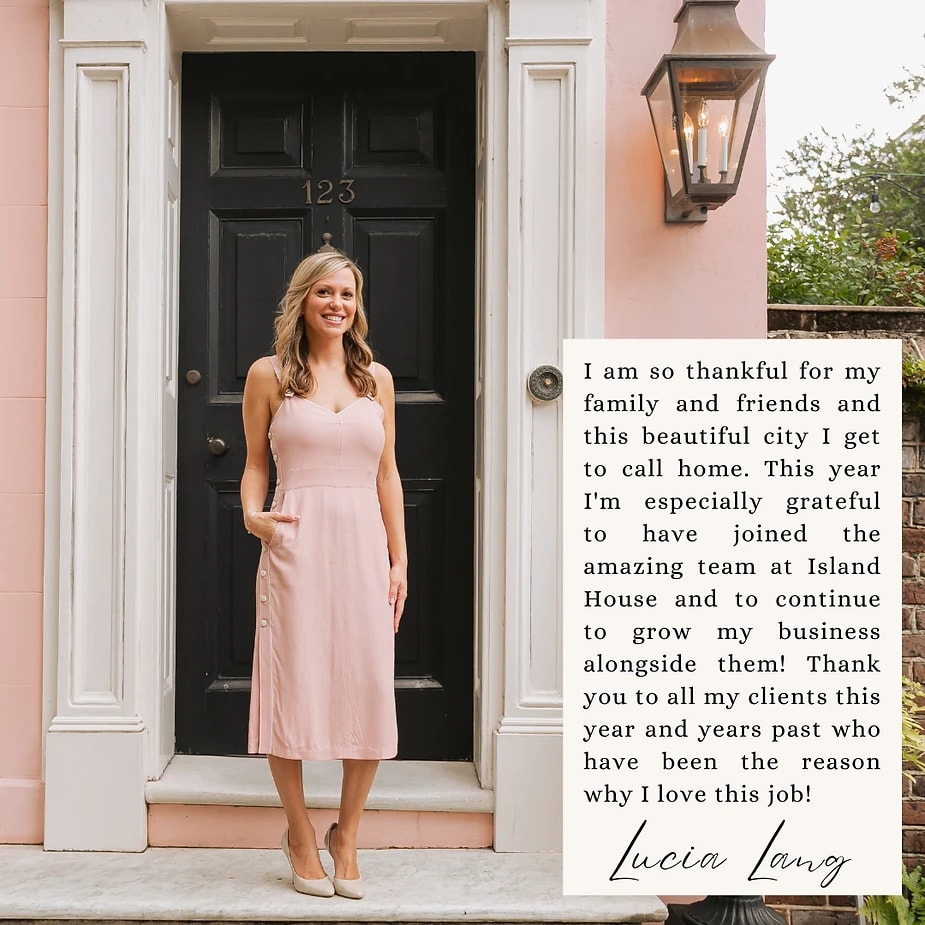 Holly has been a Real Estate Agent for nearly 20 years. Born and raised in NC, Holly was introduced to real estate at a young age by her dad, a real estate developer. Holly received her RN-BSN in nursing from Clemson University. She found her way to Charleston and met her husband, PJ. The pair settled down on Daniel Island and have three beautiful children. A Codner's Ferry expert, Holly is a long-term resident of the gorgeous Beresford Creek Street. Holly always sees a home as an investment first and foremost, helping her clients to make wise financial decisions. Holly and her husband own and manage several investment properties. She is a go-getter and is always looking for ways to better assist her clients. When she isn't scouring listings, Holly is busy raising 3 teenage children. She enjoys traveling, spending time with family, boating, and all kinds of sports including sky diving, hang gliding, surfing in Costa Rica, and more. You may even call her a bit of an adrenaline junky. Although she and her family love to travel, she's the first to tell you there's no place like home if you live in Charleston.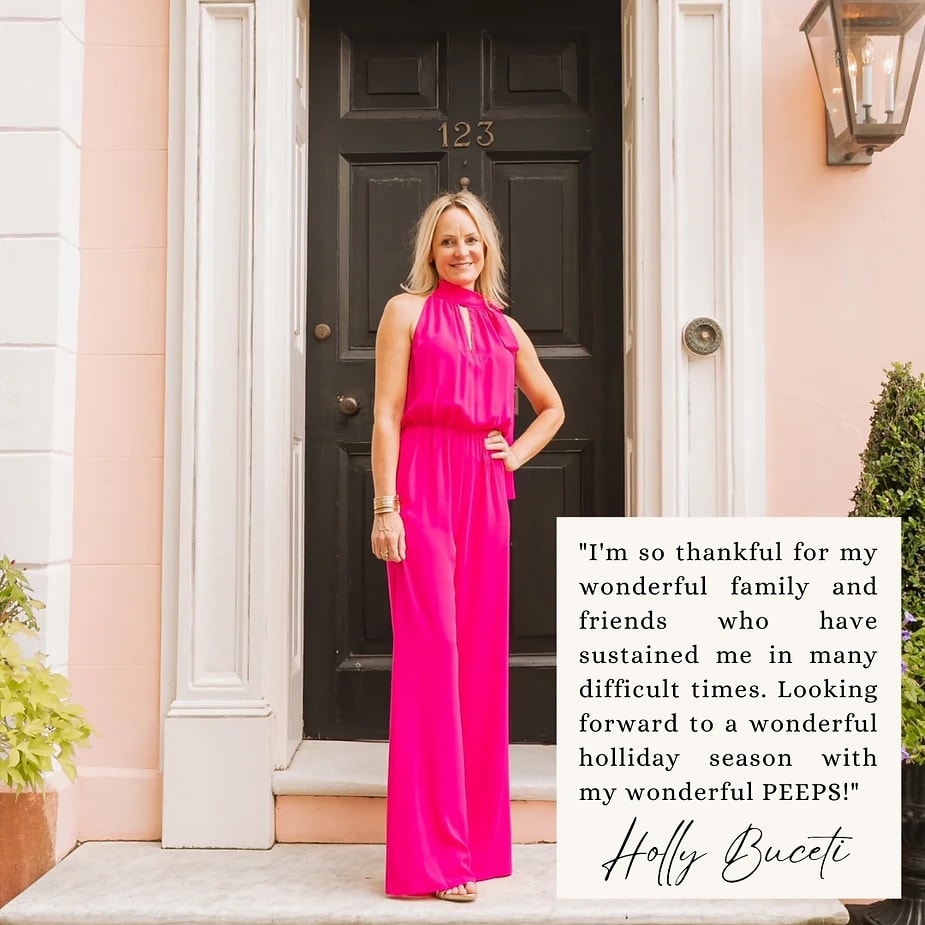 Read The Island House Real Estate Project File In The Summer 2022 Issue
Here!